Father's Day is right around the corner! If you're looking for the perfect gift for the special guy in your life, whether you are honoring your own dad, your grandfather, a brother, a husband or significant other, or just looking for an excuse to buy that special guy in your life a gift to show him you care, we have 5 perfect craft beer related gifts that are sure to show him just how much you care this Father's Day! We've partnered with a few of these awesome companies to be able to provide a discount code to all of you, so make sure you use the code to save yourself a little cash!
Bullets2Bandages is a mission-driven, socially conscious apparel and accessories company designed to give thanks to veterans, those fighting for our country, and the families who provide them with love and support at home. What could possibly be more of a badass, interesting and dad-like gift that a .50 Cal bullet bottle opener this Father's Day?!
The .50 caliber bottle openers, keychains, and tap handles are all made in America from once-fired ammunition. Bullets2Bandages chose the bullet because it grabs a person's attention and ignites an important conversation about "saying thank you to veterans." Our accessories, clothing, and unique gifts provide Americans with a distinctive way to honor to the men, women and families who have dedicate their lives to our safety and freedom.
Not only are the bottle openers seriously badass, Bullets2Bandages's mission is incredible; To provide simple ways for every American to give back and show their pride and gratitude for veterans. Bullets2Bandages also strives to raise awareness of the many challenges veterans face and raise money for organizations giving veterans the support they need to overcome those challenges.
If you're in the market for specially branded Father's Day kits, Bullets2Bandages has a wide variety of those as well!
Order your Bullets2Bandages .50 Caliber Bottle Opener here!
USE PROMO CODE 
BrewReview5

for $5.00 OFF an order of $50.00 or more!
We know, we know; there are a TON of growlers out there on the market. While there are a ton of growlers out there, our absolute favorite growler for Father's Day (and any other day) is by far the Yukon Growler. The Yukon Growler is one of the toughest, most durable and most efficient growlers on the market. Both Cory and I own one and we absolutely love them. They keep your beverage cold and carbonated for hours and hours on end, and they are just about bulletproof.
The Yukon Growler (named after one of the coldest areas on Earth), is vacuum insulated! With a double-wall barrier, your beverage will stay cold for more than 24 hours….. or in the winter you can keep your tasty beverage in it without having to worry about it freezing up. Yukon's double-wall design and durable exterior allow this bottle to be the ideal sidekick for excursions of all kinds. There is no fear of breaking a glass growler or bottle and it does not sweat, so you can throw it in a backpack and not have to worry about all your other stuff getting wet (one of our biggest gripes about other growlers). In addition, the steel lid is reinforced with a silicone gasket to prevent leaks. The Yukon Growler is eco-friendly and super portable; it comes with a strap that makes it easy to tote along with you and the wide-mouth makes it easy to fill.

Most importantly – fill the Yukon Growler with your favorite craft brew! They hold 64 oz of your favorite brew and just like glass growlers, it has a little extra room at the top for head (Filled to the rim it is 2 liters, or 67.6 oz). If your State requires a government warning printed on a growler, we've got you covered! The standard government warning is engraved on the bottom of each growler!
Head on over to Yukon Growlers and buy yourself one! Your dad will love it, and most importantly, you will be able to enjoy your favorite brews together using it!
The Fizzics is all about one things — creating the perfect pint of craft beer.  With the Fizzics system, all you need to do is open a can, bottle, or growler of your favorite beer, put it into the dispenser, and pour a glass.  They put a ton of technology into this beast; it uses sound waves to create the most dense, perfect head of foam on your beer.  Why is foam important? That's where all of the aroma lives!
Pull the handle forward, and you'll hear the dispenser pressurize, gently pushing the beer through the tap. Push the handle back, and you'll create a dense, creamy foam that almost tastes like a nitro-poured beer.  Doing side-by-sides of a regular bottle-poured beer and a Fizzics-poured beer, it is easy to see the huge difference that a Fizzics can make.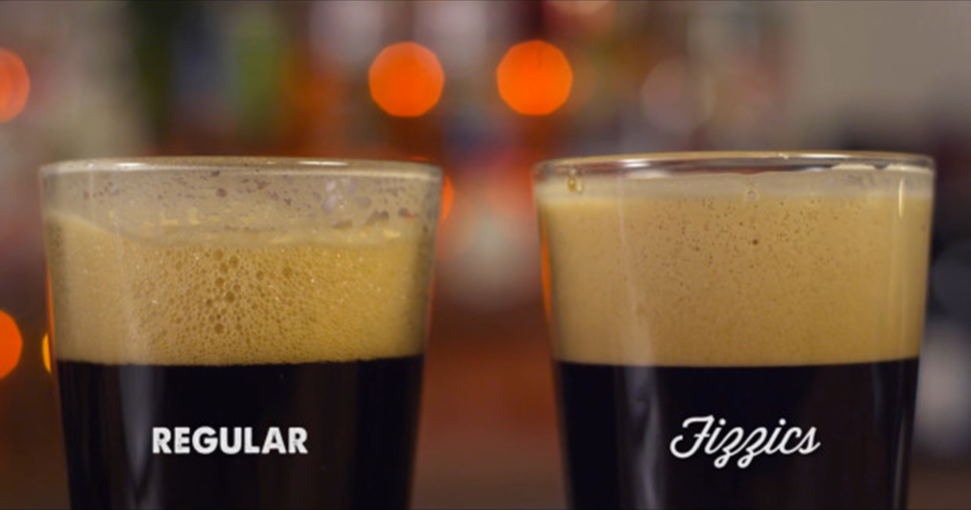 Cory and I got to try out a Fizzics system, and we love it.  We still use it to this day.  It's novel, unique, and it absolutely helps in giving you beer that tastes just as the brewer intended.
Since we have tried the system, they have updated their look a bit to create the Fizzics Waytap which is sleeker, more modern, and looks great on any counter top.
How many times have you had to go to the classic "world's best dad" mug because you forgot father's day was coming up?  Show your dad this year that you didn't forget him by getting him one of these AWESOME six pack holders. You can have his name engraved into the side or even personalize it with a logo.  These are made to last through trips to the beach, tailgating, or a round of golf.

The bottle opener on it is built in so you never have to worry about leaving one behind, and it even includes a magnetic cap catcher.  The rope handle creates a comfortable grip while still accommodating for taller bottles that you might want to bring.  Think this is the ultimate gift? Make it even better; surprise your dad with this and 6 of his favorite brews.
Head on over to Amazon and pick up one of these bad boys right now!
If you've been watching our reviews over on YouTube, you've undoubtedly seen our favorite glassware around; Craft Loyal. We actually really, really love our Craft Loyal glassware (especially the Master Glass pictured above). If you love glassware, Craft Loyal is the best out there. Your dad won't be able to help but to appreciate the artisanship that goes into each glass, and he will be downright impressed with the experience of enjoying craft beer that these glasses provide.
Craft Loyal lives to showcase and support the craft beer community and lifestyle; because let's face it, it is a lifestyle, and one that is deserving of proper recognition. You can't go wrong with the glassware from this cool little company.
Craft Loyal does not just make high quality glassware, but they also have a line of craft beer related clothing and hats. The good folks at Craft Loyal sent us a few shirts to try out, and we can attest to the fit, quality and comfortability of the shirts. The designs are interesting and lack the cheesyness that is all-too-common in beer shirts.
So hop (get it) on over to Craft Loyal and pick up some high quality glassware and a cool new t-shirt for dad this Father's Day. He will love it!
(Don't Forget to Use Code BRC15 for 15% off!)
So there you have it! Five great ideas for the craft beer loving dad this Father's Day! Remember, above all else, take some time out of your day and give that special guy in your life a call and simply tell him that you're thinking of him and that you love him; that will be far more meaningful than any gift you could ever buy him.
If you have any suggestions, let us know in the comments below or reach out to us at info@brewreviewcrew.com