Detroit. The name alone conjures thoughts of cloudy days, crippling poverty, abandoned infrastructure, homelessness, and overall blight. Time and time again, Detroit finds itself atop of the depressing Most Dangerous City in America list and recently the city even went bankrupt. That's right; an entire city declared bankruptcy. The city has fallen on hard times, that much is obvious. The most depressing aspect of all of this is to reflect on the heights that Detroit has fallen from.
You wouldn't believe it; I know I didn't, but my grandparents actually honeymooned in Detroit! Once upon a time, Detroit was one of the gems of America, rivaling cities such as New York and Chicago in terms of GDP, tourism, and high standards of living.
As sad as the current state of the Motor City is, there are many local Detroiters who would argue that the city is undergoing a resurgence back to greatness. The blue-collar, hard working folks of Detroit have begun an urban renewal that is slow but surely changing the landscape of Metro-Detroit into a happening, exciting place to be. Chief among these people are craft brewers and lovers of craft beer. Detroit and the Detroit-area is home to over 32 craft breweries; a staggering number for any city!
Living where I do, I am just a short drive away from Detroit, so a few weeks back, Cory, my very pregnant wife (acting as the intensely loyal BRC DD) and I loaded up the car and drove to the Motor City to check out a few of the newest craft breweries on the scene. On our travels we visited Batch Brewing and Brew Detroit; both of which have been in operation for less than a year as of this writing.
Our first stop of the day brought us to Detroit's first nanobrewery; Batch Brewing Company. Funded by an Indigogo campaign and winners of the Hatch Detroit business incubator contest, we had heard a lot of buzz about Batch. Batch is located at 1400 Porter St in Detroit in the historic Corktown neighborhood. Driving up to Batch, you immediately sense the industrial, blue-collar feel and vibe that is echoed by the entire city of Detroit.
from Detroit.Eater.com,
This Corktown brewery has quickly made a name for itself, with around a dozen beers on tap at any given time, rotating regularly to keep things interesting. Check out what's on their Feel Good Tap, which donates part of the proceeds from every beer to a different charity each month.
All three of us were immediately impressed with the decor of Batch. The mix of industrial steel coldness with rustic warmth is both welcoming and beautiful. We arrived fairly early in the day so we had the brewery to ourselves. We nestled up to the bar and made some small talk with the bartender who informed us that they were just about a year old. We complimented them on the style and appearance of the brewery while we perused their lengthy and varied beer menu.
On that particular day, I sampled and enjoyed five different Batch Brewing beers; The Empire Pale Ale (seen below), a Wheated Stout (you read that right; a wheated stout), Second to the Last Word (a sour ale) and The Sensitive Machine (another sour ale). You can check out my musings on these beers over on my Untappd profile! You can also check out every beer Batch has on tap via their BeerMenus page!
While we enjoyed the interesting styles and flavors of Batch, we enjoyed a plate of nachos from their kitchen that were not only reasonably priced for brewery grub but also served in a flash. The customer service was impeccable at Batch and we felt right at home the entire time. Batch's many offerings of craft beer span a wide range of styles and flavors; perfect for such a diverse city as Detroit. We had a great time debating with the bartenders on whether or not Star Wars: The Force Awakens was a great movie or not (spoiler: it is the best movie…ever).
As a married man, I watch my fair share of HGTV and consider myself a pseudo-expert on home decor (my wife would whole-heartedly disagree). I was really impressed with the attention to detail that Batch put into the appearance and feeling of their brewery. The open-air brew house complete with fermenters in plain sight is always a favorite style of mine. The feel of rustic industrial decor spanned throughout the brewery, even into the restrooms.
Leaving Batch, I was left with a fantastic first impression. For being so new to the scene, Batch is producing some very interesting beers that range from both stylistically on-point and outside-the-box experimental ideas. If you are in the Corktown area, or want a fun day-trip, make sure you add Batch Brewing to your list of destinations. The staff is wonderful, the environment and atmosphere are welcoming, and most importantly, the beer is delicious.
Photo courtesy of Detroit.Eater.Com
Remaining in the Corktown neighborhood, we drove on over to Brew Detroit, Detroit's newest collaborative brewery.  Nestled in the historic Detroit Ball Bearing facility located at 1401 Abbott St, Brew Detroit is Detroit's largest automated brewery since Stroh's closed its doors over 30 years ago. Brew Detroit is not much to look at from the outside, and as we pulled up to the facility, we had no clue what to expect (I actually thought it was a repurposed firehouse), but first impressions of the exterior left a little to be desired.
Upon entering Brew Detroit, we were faced with what I am sure is the most unique taphouse I have ever stepped foot into. On the day we visited, it was a cold Sunday afternoon and humming in the background were the familiar sounds of late-season NFL game action accompanied by the groans of the patrons watching (so you know it was a Lions game…). The taphouse has an interesting configuration. The bar is set up as a square in the middle of the room with seating spread all around. To the side is a long shuffleboard tabletop game (which we spent our entire stay playing) which sits just in front of a killer arcade game room.
What is interesting about Brew Detroit is that a majority of the beer brewed in the mammoth facility is not even Brew Detroit beer! Other Detroit craft breweries are using the Brew Detroit complex to either expand their operations or avoid the crippling cost of overhead space to brew in. I was curious as to why half of the taps were devoted to Atwater Brewing; but then I found that Atwater is one of the main companies using the Brew Detroit's facilities.
The day of our visit, I enjoyed a Not Quite Pumpkin Porter, which was one of the most heavily pumpkin spiced beers I have ever enjoyed, as well as Roggenbier, an old German style that was intense with flavor. Though I only enjoyed two beers, the ABV on each was considerable and the flavors were very pronounced. I walked away with a great appreciation for Brew Detroit's beer.
The most interesting aspect, by far, of Brew Detroit (for me at least) is the construction and layout of the brewery and taproom.
After my first glass and round of shuffleboard, I had to relieve my brew-filled bladder. After searching for the restroom and entering at least 5 doors that led to seemingly nowhere, I had to ask the bartender where it was located. I had two choices; take the stairs or ride the elevator to the second floor. Wait. Your restroom isn't on this floor? It seemed like ridiculous planning to me, but then I remembered; this wasn't their buildout – this is a repurposed building! So, of course, I took the elevator.
Remember; this is NOT a brewery by design. It is the old Detroit Ball Bearing facility. This building is an office building, and it looks like it. Long hallways of conference rooms and water-fountains leading to the restrooms are so totally out of place from what you have ever seen at your local brewery. It truly is bizarre to think that you are at a brewery.
One neat feature they have considered is upper-level seating. The second floor comes complete with pool table, relaxing and comfortable couches, and the exclusive first-come-first-serve access to the restrooms!
If you are into people-watching, you have the perfect vantage point from the second floor of Brew Detroit.
To be perfectly frank, at first I was completely turned off by the architecture and the choices Brew Detroit made in utilizing the space the way they did. Having the restroom on the second floor seemed asinine to me, and the building choice in general seemed to be ill-fitted for a craft brewery and taproom. The longer we stayed, however; the more enchanted I became with it all.
The natural lighting, the open-air feel of the taproom, the televisions and the patrons relaxing while watching them all while drinking amazing craft beer was enough to win me over. By the end of our stay, we became temporary Lions fans as we joined in with the locals in supporting their floundering team while drinking some memorable brews in a truly unique building.
Next time you think of Detroit, try not to visualize this:
Instead, see Detroit for what it is attempting to become; a city, driven by hard working, passionate people, climbing its way out of the throes of blight and despair to become a new hotspot for a new generation of Detroiters. See Detroit as a capital city on the map of craft breweries. Do yourself a favor; come to Detroit. Visit its 32 craft breweries. Enjoy the stories, the architecture, the people, the beer. We know we will be back to explore more exciting and unique breweries. Hopefully we see you along the way.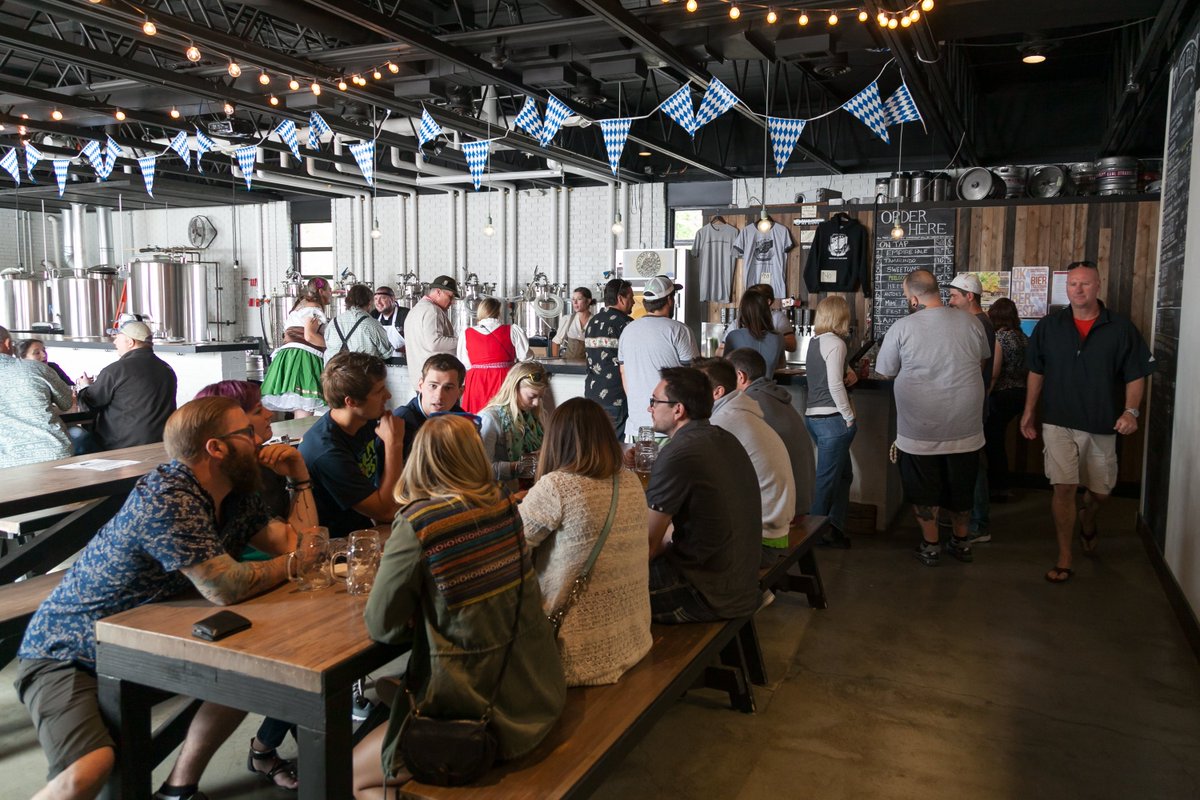 If you are interested, check out our other brewery tours and reviews as well, many of which are in the Detroit area!